By: Lionel Nixon
National Correspondent Chicago Communicator News Media
Photo Snapshots of Balloon Launching Tribute Memorial Ceremony in Celebration of the life of the late Ivan Anthony Eberhardt
 A very high-spirited and emotionally touching event that I attended took place today on the corner of 87th and Calumet Street here in Chicago Illinois. A balloon launching memorial ceremony in celebration of the life of the late Ivan Anthony Eberhardt, a recent tragic victim of an automobile hit-and-run driver.  There were many people who turned out to participate. There were a number of speakers who provided insights, memories, and tributes to the remarkable life of Ivan.
 It was very apparent that Ivan was a very well-liked person, a helper of many people who achieved a number of personal, community, and business accomplishments. A role model, advocate and mentor for community youth Ivan was noted for his remarkable positive attitude and smile. Chicago Mayor Lori Lightfoot sent a statement with condolences to the family which was read during the ceremony. The City of Chicago recently placed a caution sign for automobile drivers to slow down for pedestrians crossing 87th and Calumet Street where Ivan was struck down. 
One of the speakers pointed out that there was high automobile speed between 87th and Indiana and Martin Luther King Drive Avenues and further that the sign should have been placed up there by the city a long time ago. If you have any information relative to what happened to Ivan, that night or know someone who does do not hesitate to contact the Chicago Police Department Homicide Division.  It is clear that Ivan, a father and grandfather will be missed but the memories of his goodwill and accomplishments will remain forever.
Ivan is the son of Emma Young, a highly regarded media relations specialist, social community advocate, and long-time Chicago resident. My deepest thoughts, prayers, condolences, and best wishes along with those of many other people remain with Emma and her family.
E.D. Nixon: The Forgotten Hero (short clip) 1983
Introduction
In 1968 the year that the Housing and Urban Development Act of 1968 was passed by United States Congress and signed into law by President Lyndon Baines Johnson creating the legal provision of Section 3 of this act requiring "to the greatest extent feasible" on a set percentage basis mandatory issuance of contracts, jobs, training and other economic benefits to low and very low income owned businesses and individual United States citizens from federal funds appropriated, budgeted and allocated by Congress to grantees and through them sub grantees in the areas of construction, public works and administration of Housing and Community Development Block Grant programs with the purpose and intent of Congress to accomplish economic development opportunities to eliminate poverty.
I wrote this "white paper", 22 years ago in 1999 at the turn of the century for the benefit of those that did not know what would be happening today.
I endeavored to raise awareness by thoroughly, dynamically pinpointing the methodology, evitable impacts, effects and outcomes of the denotative incrementally and surreptitiously application of this national public policy called "Spatial Deconcentrating" first publicly introduced in the 1968, in the "Kerner Commission Report On Civil Disobedience" found in chapter 16 of which this same year 1968 the public deployment of this federal public policy, regulations, procedures and practices was officially adopted.
A prophetic proscription of the future 22 years ago by me that I wish I that had been wrong about. But! I wasn't.
Urban Mining
(I wrote this article in the South Street Journal in 1999.) This one simple article pulled the cover off of the secret "Spatial De- Concentration" program I had been one of the few people in America who had worked for the Chicago Housing Authority, Chicago Regional HUD and Washington DC HUD Headquarters Offices.) The United States Government spent more than a a quarter of a million dollars training me in Washington, DC at HUD and the University of Southern California Graduate School of Public Administration with 24 others selected from among 10,0000 + applicants for the HUD Intergovernmental Management Program from across America. I had been an insider who knew a lot. "Scary ass" politicians who should have opened their mouths and fought, just remained mostly silent.
I stepped up to the plate and fought and even back then they I knew what I was talking about was highly credible. (It still is…) Please read this….
URBAN MINING! From an article in the Chicago, South Street Journal written in 1999 By Lionel B. Nixon 22 years ago
In 1999 the Chicago Housing Authority high-rise buildings have become Copper mines as the financially profitable implosion and salvaging of the raw materials by a few well connected construction and demolition companies haul their valuable treasure cargo from the buildings, undetected by the general public.
The copper and iron in these buildings represent millions of dollars in bounty for those who have the technological capacity to mine it. The fixtures, gravel, cement blocks, doors, wiring, elevators, heating systems, compactors, window frames, pipes and other raw materials constitute the economically elastic surplus material for the largest man made hardware stores in the history of Chicago.
The buildings were built primarily in the 1960s. They were financed by 40 year municipal bonds. As part of a sophisticated late 20th century "land banking" strategy to recapture some of the most valuable land in the city of Chicago land currently occupied by Public Housing High-rise "PROJECTS" parallel to the Dan Ryan and Eisenhower expressways on the west and south side and along the lake front. Concomitantly working in conjunction with the various TaxIncrement Financing (TIFs) and other Redevelopment Plans that utilize acquisition of other building structures by imminent domain, such as the 47th Street Redevelopment Plan which calls for the involuntary displacement, acquisition and demolition of almost every business on 47th street from St. Lawrence to the Green Line elevated Train.
This scenario presents the potential for the greatest American land grab and involuntary displacement of citizens from housing and small businesses, since the removal of American Indians from their tribal lands during the 19th century.
The recycling of the raw materials of these smaller building structures is a lucrative and profitable proposition for high technology demolitions and salvagers as well. The new vacated parcels of land create new development opportunities consistent with the current City of Chicago Comprehensive Plan which was first created in 1909 as the Chicago "Master Plan".
Section 8 Existing Housing Vouchers holders in the inner city of Chicago will find that they will be forced to move to what I call the, EXURBS, a 15 to 30 mile circular perimeter distance, (North, West, and South) from the core of the inner city of Chicago.
Other options will include, moves to mid or down state Illinois or out of state all together in order to find suitable housing and the land lords accept their vouchers. HUD which has had it share of r years of internal fraud, waste, mismanagement and material complicity, with the Urban Miner Developers. The people of public housing need help with relocation, not symbolic gestures. The only hope for this group of Chicagoans is the presence of the new CHA Administration and the exit of the former HUD policy makers from Washington who preceded them.
There is nothing wrong with economic development if it is balanced and done with the required public hearings, accommodation for citizens to provide "alternative plans" and the "right to object" to currently proposed plans in accordance with Federal and State, laws, rules and regulations.
Without appropriate government intervention and responsible community participation by residents from both public and private housing and the small business community. Urban Mining will be the impetus for a modern development process that will treat native Chicagoans of which I am one, just as the Native Indian Americans were treated during the 1800s.
Lionel B. Nixon, former twenty-year United States Department of Housing and Urban Development Official He served as a Co-Chairmen for the Housing Task Forces of both Congressmen and Mayor Harold Washington and Charles Haynes. Served as President of the Coalition to Save South Shore Country Club Park. Past President, of HUD AFGE Local 911
HUD To Expand Outreach
We Outreach
April 14 at 9:27 PM · HUD to "expand outreach"! Procurement HUD is focusing on widening the base of small businesses and small disadvantaged businesses it serves based on the socio-economic groups that appear under-represented in HUD's procurements. Through the equity assessment process at HUD and other agencies, two sets of barriers to equitable outcomes in procurement have been identified: On the vendor side is difficulty navigating the complex process of the federal procurement system and identifying specific agency opportunities the agency side is improving market research and forecasting to match needs with small business capabilities.HUD's Actions HUD will expand outreach efforts to connect with more small businesses and community partners underrepresented in the procurement space, help new businesses navigate the process, and expand the geographical diversity of HUD's supplier base.HUD will encourage its grantees to work with local small businesses by sharing effective models from programs as varied as Choice Neighborhoods and CDBG-Disaster Recovery.HUD will work with the interagency community to identify supports needed to ensure the sustainability of businesses, provide appropriate resources as they transition from small to medium businesses, and track success.
Chicago Communicator News Media On Point"
Part 1 of an exclusive in-depth interview held in Chicago, Illinois with officials from the United States Department of Housing and Urban Development (HUD) on the topic of the federal law, Section 3 of the Housing and Urban Development Act of 1968 as amended. The program will broadcast on Wednesday, April 6th and Thursday, April 7th, 2022 on Section 3 is a legal provision which stipulates federal regulatory requirements relative to employment, to the greatest extent feasible for federal, state, county, large, small, rural cities, municipal corporations, townships, villages, unincorporated area agencies, general contractors, housing authority's, not for profit organizations or any other public or private entity that is a beneficiary or sub beneficiary of HUD funded construction projects that are $200,000 or more.
This exclusive Chicago Communicator News Media explores many of the publicly not widely known aspects of the history of Section 3, operations, regulatory requirements, the process for participation by low, very low and extremely low income owned businesses and job seekers in employment, contracting, training opportunities and other economic benefits. This interview demonstrates what is possible by news media to partner with the Department of Housing and Urban Development in it's mission to create higher economic impact in economically disadvantaged communities across the nation by providing increased outreach and public awareness relative to the federal Section 3 legal provisions, unprecedented federal funding availability and increased participation leading to self sufficiency for many citizens and their families.
On behalf Wanda Carter, President & Station Chief for the Chicago Communicator News Media, we appreciate the United States Department of Housing and Urban Development and its representatives in part 1 of this interview for the opportunity to assist the Department with it's mission by informing potential participants starting here in HUD Chicago Midwest Region 5. Our goal is to assist the state of Illinois and its local governments as partners in their outreach initiatives for Section 3 opportunities. At the highest level the most important thing today is to be part of the solution which is to increase substantially the number of Section 3 businesses, Section 3 employment and training through accelerated outreach.
Lionel Nixon
National Correspondent
Chicago Communicator News Media
36th President of the United States: 1963 ‐ 1969
Remarks at the Signing of the Housing and Urban Development Act.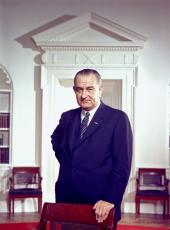 August 10, 1965
Mr. Vice President, distinguished Speaker McCormack, Senator Mansfield, Senator Sparkman, Congressman Patman, distinguished Members of the Congress, distinguished Governors and mayors, and friends:
This is a very proud and very gratifying occasion. I am very proud, and I am very privileged to welcome you today to the first house of the land–the house that belongs to all of the American people. I am gratified, as you are, that we could come together to sign into law a measure which will take us many long strides nearer the goal that has been the dream and the vision of every generation of Americans. That is the goal of honoring what a very great President, Franklin D. Roosevelt, 21 years ago expressed as "the right of every family to a decent home."
From Plymouth Rock to Puget Sound, the first priority of the men and women who settled this vast and this blessed continent was, first of all, to put a roof over the heads of their family. And that priority has never, and can never, change.
I am so happy this morning to see the great and distinguished Mayor of New York here because it was his father who pioneered the housing legislation in this country. And here on the platform with me is one of those who joined with him–the very able and distinguished Senator from Louisiana. It took a lot of courage for him to stand on some of those bills. He got in with Bob Wagner and Bob Taft and he got in the middle between those two, and it did take courage to stand there.
Many elements mattered to the success and the stability of our great American society. Education matters a great deal. Health matters. Jobs matter. Equality of opportunity and individual dignity matter very much.
But legislation and labors in all of these fields can never succeed unless and until every family has the shelter and the security, the integrity and the independence, and the dignity and the decency of a proper home.
For me, this is not a belief that comes recently. It is a conviction, and it is a passion, to which I was born 57 years ago this month in a humble home on the banks of a small river in Central Texas.
Men may forget many memories of their childhood. But many of you know–as I know–that no man and no woman ever grows too old or too successful to forget the memory of a childhood home that was without lights, and that was without water, and that was without covering on the floor. And I have never forgotten.
The first great effort, the first great reward of my public service was to secure for my little congressional district, as a young Congressman, the Nation's first public housing project that President Roosevelt signed in the 1930's. And Bob's father was there at that allocation. What I sought then for the people of one city–Austin, Texas-I am determined as President that we shall seek and we shall obtain for all the people of all the Nation.
We have the resources in this country. We have the ingenuity. We have the courage. We have the compassion. And we must, in this decade, bring all of these strengths to bear effectively so that we can lift off the conscience of our affluent Nation the shame of slums and squalor, and the blight of deterioration and decay.
We must make sure that every family in America lives in a home of dignity and a neighborhood of pride, a community of opportunity and a city of promise and hope.
This legislation represents the single most important breakthrough in the last 40 years.
Only the Housing Act of 1949 approaches the significance of this measure. And in years to come, I believe this act will become known as the single most valuable housing legislation in our history.
The Housing and Urban Development Act of 1965 retains, and expands, and improves the best of the tested programs of the past.
It extends and gives new thrust to the FHA mortgage insurance program so that millions of Americans can come toward attainment of new homes in the future, as millions already have under that program in the past.
It opens the way for a more orderly and cohesive development of all of our suburbs; and it opens the door to thousands of our veterans who have been unable to obtain the benefits of a Federal housing program.
It extends and enlarges and improves the urban renewal program so that we can more effectively challenge and defeat the enemy of decay that exists in our cities.
It faces the changing challenge of rural housing. It continues the loan programs to assure the needed dormitories on our college campuses, and decent housing at decent costs for the elderly and the handicapped and those of lower income.
But the importance of the bill is not only that it retains and improves the best of good and traditional programs; it is a landmark bill because of its new ideas.
Foremost and uppermost of these is the program of assistance for the construction and the rehabilitation of housing for the elderly and for families of low income–the people who live in the most wretched conditions in our slums and our blighted neighborhoods.
The conception of this fine program, endorsed by this fine Congress, calls for the best in cooperation between Government and free enterprise. I am so happy to see so many members of the building industry and the trade unions and our free enterprise system–that has made us the strongest nation in all the world–here to honor us with their presence this morning.
This imperative housing will be built under the sponsorship of private organizations. It will make use of private money, and it will be managed by private groups. With supplements paid by their Government, the private builders will be able to move into the low-income housing field which they have not been able to penetrate or to serve effectively in the past.
Furthermore, this legislation responds to the urgent needs of our cities. It offers Federal assistance to the cities and communities of our Nation to help pay the cost of essential public works.
And finally, this legislation meets our compelling responsibility for giving attention to the environment in which Americans live. Grants are provided for the acquisition of open spaces, for the development of parks, for the construction of recreational facilities, and for the beautification of urban areas.
This measure votes "no" on "America the Ugly"–and it votes "yes" on preserving, for our posterity, "America the Beautiful."
The promise and the portent of this legislation cannot be justly described in the limited time we have this morning. But there is embodied in this legislation that generosity of vision, that breadth of approach, that magnitude of effort, with which we must meet all of our challenges here in America.
So, I am very proud to congratulate and to salute those outstanding Members of Congress whose influence and whose leadership have helped to achieve this landmark today. There is Senator John Sparkman–the son of a tenant farmer, and still the tenant farmers' friend, as this bill reflects–who has done perhaps as much or more in America than any living legislator.
There are others whose study and understanding of housing has helped us much. I would like to name all of them but that would take too long. But I must not overlook Senator Paul Douglas of Illinois who is here, Senator Edmund Muskie from Maine, Senator George Aiken of Vermont. On the House side there was the great leader of my delegation in the Congress, my longtime friend and the cherished friend of my father ahead of me, Congressman Wright Patman. He has always been a champion and always been faithful to the people. There is Congressman Barrett, whose services have meant so much. There is Congressman Widnall, who has worked now years in a row with Congressmen Patman and Barrett to try to give this Nation good bills.
I would like to express my appreciation to the Governors and the mayors, especially the great mayor of New York, Bob Wagner; the great mayor of Chicago, Dick Daley; and all of the others who have been of so much help to me.
And I just cannot overlook being grateful to the constructive role of the Nation's home builders, under the leadership of the patriot, Bernie Boutin.
And last, but certainly not least, foremost is the leader of us all in this field–the modest, retiring, and able administrator, Bob Weaver, who finds not much satisfaction in the compliments paid him, or even the recognition accorded him by his superiors, but who finds ample satisfaction in the achievements that come his way. And, this bill is a monument to him.
Now, this is not the last housing bill that we shall need and it is not going to be the last that we shall pass.
For I pledge to you that we shall do all that must be done to fulfill our commitment-and the Vice President and I have made it in every State in this Union. And he is going to stand by my side here and throughout the States of the Union to see that we do our best to try to get every American in every family living his life not with the haunted memory of a dilapidated and degraded hovel that he must call home, but with a happy memory of a decent and a dignified home worthy of a free and just society, where a man can enjoy the privacy of his family and can help to build a stronger America, a more profitable and peaceful America, and, finally, something we all want–a more beautiful America.
Thank you very much.
Note: The President spoke at 12:02 p.m. in the Rose Garden at the White House. In his opening words he referred to Vice President Hubert H. Humphrey, Representative John W. McCormack of Massachusetts, Speaker of the House of Representatives, Senator Mike Mansfield of Montana, majority leader of the Senate, Senator John Sparkman of Alabama, and Representative Wright Patman of Texas.
During his remarks the President referred to, among others, Mayor Robert F. Wagner of New York City and his father, Robert F. Wagner, Senator from New York 1927-1949, Senator Allen J. Ellender of Louisiana, Robert A. Taft, Senator from Ohio 1939-1953, Representative William A. Barrett of Pennsylvania, Representative William B. Widnall of New Jersey, Mayor Richard J. Daley of Chicago, Bernard L. Boutin, Executive Vice President of the National Association of Home Builders and former Administrator of the General Services Administration, and Robert C. Weaver, Administrator of the Housing and Home Finance Agency.
As enacted, the Housing and Urban Development Act of 1965 is Public Law 89-117 (79 Stat. 451).
Lyndon B. Johnson, Remarks at the Signing of the Housing and Urban Development Act. Online by Gerhard Peters and John T. Woolley, The American Presidency Project https://www.presidency.ucsb.edu/node/241104
Gerrymandering
Now
When I saw how egregious the redistricting process of the State Representative Districts in Chicago and East ST Louis Illinois were notwithstanding do you have coming redistricting of the ward for the city of Chicago. Laying aside all excuses, I was compelled to join a community working taskforce group to undertake exploration of appropriate strategic action along with political education and outreach in the interest of fairness and parity relative to the preservation of Black political power and proportionate political representation.
Those of you who have been around for a while on Facebook have witnessed in articles that I have written and posted as far back as 2008; 1999 'Mayor Harold Washington's Promise", 2001 "Urban Mining", "Spatial De-Concentration and many others. You can Google them or write them in the search engine on Facebook to read them. You will find that the first two articles first posted on Facebook in 2008 seemed like they were written in terms of my predictions last week.
Note: Facebook took my entire 2008 Profile down.
I accurately predicted the incrementally planned reduction of the population of Black people in particular and poor people in general from the 77 major population centers imbibing research information on the the probable impact, affects and outcomes of this socially engineered "Spatial De-Concentration" process with special concentration and interest in my research on my place of birth here in Chicago.
Note: read chapter 16 and 17 of the 1968 Kerner Commission Report on Civil Disorder where the process of "Spatial De-Concentration" concentration responsibility introduced and recommended.
I could go on here but it would be better if you took the time to read each of the above-mentioned articles that I wrote. This brings me to the point that I want to make here about the correlation and affects between the reduction of the Black population in Chicago and the application of gerrymandering in the redistricting relative to heavily populated Chicago Black neighborhoods and also in East ST Louis, Illinois to the reduction of Black political power and proportionate political representation.
For the record, I also predicted this outcome would occur more than 20 years ago in the above cited articles that I authored. You all need to familiarize yourself with gerrymandering methodologies of applying "splitting" and "cracking" during the map drawing redistricting processes.
Flashback: "I Must Be The Greatest"
My early encounter in my youth with my friend and hero Muhammad Ali. This is where I learned about the uppercut punch. I was about 14 years old and they let me hang out at the gym. I used to watch Muhammad Ali workout and engage with him during the mid and late 1960s at Mr. Johnny Coulon's Boxing Gym on east 63rd Street, who was World Bantamweight World Champion in 1910.
My contact with Ali continued until I left one year after graduating from high school in 1969 to attend Wittenberg University in Springfield Ohio. Believe this or not, Ali would meet some of us young people at a nearby vacant lot and from a distance he would have each of us one at a time throw rocks at him as a part of his training. That's when I met the late, great Jabir Herbert Muhammad of which later on done the line, I would do some very good things at the South Shore Country Club. Never saw him get hit as he cleverly moved quickly to avoid our best efforts to hit him. He then would meet us at Nicky's Pizza in the Plaza at 53rd and Woodlawn in Hyde Park and treat us to pizza, (no pork). To me he became like a big brother. I still look up to him today.
He used to tell us that he couldn't chew his food like he should because he ate too much candy when he was our age and encouraged us not do the same. He said stay in school, study, exercise daily, run, lift weights, don't eat pork and think about your future; what you want to be and start doing and learning things that will get you there. I was going to pursue boxing but somebody gave me a basketball and I started playing for the "Golden Spurs' basketball team at the Hyde Park Neighborhood Club" under Les Vant and Walter Cuningham, then Hyde Park High School and Harvard ST. George College Preparatory School.
Ali told me "Don't try to be someone else, Caz (my Flashback. This is where I learned about the uppercut punch. Flashback, I was about 14 years old and they let me hang out at the gym. I used to watch Muhammad Ali workout and engage with him during the mid and late 1960s at Mr. Johnny Coulon's Boxing Gym on east 63rd Street, who was World Bantamweight World Champion in 1910. Ali attended some of my basketball games at Harvard's ST. George and people paid more attention to him than the basketball game. In 1968 I made the Chicago All City Chicago High School Prep Basketball First Team and was the most valuable player in the nation in the Lutheran Athletic Association Basketball Program, my team Augustana Lutheran Church of Hyde Park which won the national championship in which I hit the winning shot with one second left on the clock.
I am having a positive affect at a very young age that Muhammad Ali had on me in building my confidence and having such a great friend to look up too. It all started at the late, great Johnny Coulon's gym in Woodlawn you're good at basketball so play basketball." Ali attended some my basketball games at Harvard's ST. George and people paid more attention to him than the basketball game. In 1968 I made the Chicago can All City Chicago High School Prep Basketball First Team and was the most valuable player in the nation in the Lutheran Athletic Association Basketball Program, my team Augustina Lutheran Church of Hyde Park which won the national championship in which I hit the winning shot with one second left on the clock. I am so appreciative of the positive affect at a very young age that Muhammad Ali had on me in building my confidence and having such a great friend to look up too. It all started at the late, great Johnny Coulon's gym in Woodlawn.
Sketches from the memorial service of my friend the late, great Attorney Lewis Myers Jr.
The Wise One
https://youtu.be/yrqb0373cVs
The knowledge, friendship, mentoring and help that I received from Lew and two of our mutual good friends the late Attorneys Michael Wayne Smith and E. Duke McNeil has been invaluable beyond any words that I can think of that would adequately describe it.
Although I'm not the only one I must admit this one hurt. Lew's Legacy will continue forever and at every difficult moment in my quest to speak truth to power I will be strengthened by his example, memory, presence and what I learned from him.
I know a lot of people across this great City of Chicago, State of Illinois, the Region and Country. I'm working with a team undertaking the mission to assist, partner, advocate and assure that the intent of Congress is carried out to the greatest extent possible, to employ, obtain training, contracts and other economic benefits for millions of low and very low income citizens across the United States under Section 3 of the Housing and Urban Development Act 1968, as amended.
Federal Public Law
(12 USC S 1701u)
Code of Federal Regulations
24CFR Part 75
24CFR Part 963
This public information gives you a snapshot of what the budget looks like relative to the categories in particular however the enactment of the American Recovery Act by Congress under the
President Joe Biden
and HUD
Secretary Marcia L. Fudge
Administration revisions have been made adding 9 billion dollars making the budget much more highly impactful.
1. For public housing financial assistance, the benchmark for Section 3 workers is set at 25 percent or more of the total number of labor hours worked by all workers employed with public housing financial assistance in the PHA's or other recipient's fiscal year. The benchmark for Targeted Section 3 workers is set at 5 percent or more of the total number of labor hours worked by all workers employed with public housing financial assistance in the PHA's or other recipient's fiscal year. This means that the 5 percent is included as part of the 25 percent threshold.
For housing and community development financial assistance projects, the benchmark for Section 3 workers is set at 25 percent or more of the total number of labor hours worked by all workers on a
Section 3 project. The benchmark for Targeted Section 3 workers is set at 5 percent or more of the total number of labor hours worked by all workers on a Section 3 project. This means that the 5 percent is included as part of the 25 percent threshold.
2. Award to Section 3 business concerns at least ten percent (10%) of the total dollar amount of all Section 3 covered contracts for building trades work; and 3. Award to Section 3 business concerns at least three percent (3%) of the total dollar amount of all Section 3 covered contracts for non-construction work. There are billions of dollars that have been allocated for this federal entitlement program to every State, County, City, Township, Village and Unincorporated Territory. No new money is needed.
FACT SHEET:
Housing Provisions in the American Rescue Plan Act of 2021 COVID-19 has exacerbated our nation's already severe housing affordability crisis. Today, 1 in 5 renters is behind on rent and just over 10 million homeowners are behind on mortgage payments. People of color face even greater hardship and are more likely to have deferred or missed payments, putting them at greater risk of eviction and foreclosure. At the same time, our nation's homelessness crisis has worsened during the pandemic, as people experiencing homelessness are highly vulnerable to COVID-19 transmission, illness, and severity due to their use of congregate shelters and their high prevalence of underlying health conditions.
The Biden-Harris Administration has made delivering housing relief a top priority. Recently, the administration announced a coordinated extension and expansion of forbearance and foreclosure relief
programs, an important step towards building stronger and more equitable communities. To bolster these efforts, Congress has passed the American Rescue Plan Act of 2021 to deliver more aid to people struggling to pay their rent or mortgage. The American Rescue Plan Act of 2021 includes a number of provisions, to be administered by HUD and other agencies, to provide immediate and direct relief to help people across America remain stably housed during the pandemic.
Specifically, the American Rescue Plan Act of 2021 provides:
• Emergency rental assistance. The legislation provides more than $21.5 billion in emergency rental assistance, to be administered by Treasury, to help millions of families keep up on their rent and remain in their homes.
• Homeowner Assistance Fund. The legislation provides nearly $10 billion, to be administered by Treasury, to help homeowners behind on their mortgage and utility payments and avoid
foreclosure and eviction.
• Emergency housing vouchers. The legislation provides $5 billion for emergency housing
vouchers for individuals and families who are experiencing homelessness or at risk of
homelessness.
• Homelessness assistance and supportive services program. The legislation provides $5 billion for the HOME Investment Partnerships Program to help create housing and services for citizens at risk to homelessness.
Section 3 program regulations are required by law to "the greatest extent feasible" to be applied to recipients of HUD funding covered by Section 3 of the Housing and Urban Development Act of 1968. Direct recipients include public housing authorities that manage low-rent units, entitlement communities and states that receive annual formula allocations from the Community Development Block Grant (CDBG), HOME Investment Partnership Program, Emergency Solutions Grant (ESG) and Housing Opportunities for Persons with Aids (HOPWA) Program, states and territories that receive assistance for disaster recovery, owners of projects converted under Rental Assistance Demonstration (RAD) that undertake capital improvements, lead abatement and other HUD NOFA Grantees.
Some examples of economic opportunities that are available under Section 3 are:
 Job training
Any employment resulting from these expenditures, including administration, management, clerical support, and construction, is subject to compliance with Section 3.
Examples of economic opportunities for a combined 10% total aggregate budgeted allocation of Federal funding for any contract business activity for low or very low income citizens operating Section 3 Business concerns include but are not limited too:
 Accounting  Computer/Information  Iron Works  Plastering
 Architecture  Demolition  Janitorial  Plumbing
 Appliance repair  Drywall  Landscaping  Printing Purchasing
 Bookkeeping  Electrical  Machine Operation  Research
 Bricklaying  Elevator Construction  Manufacturing  Surveying
 Carpentry  Engineering  Marketing  Tile setting
 Carpet Installation  Fencing  Painting  Transportation
 Catering  Florists  Payroll  Word processing
 Cement/Masonry  Heating  Photography and Media
The program is not driven by race, gender or other protected class but by income. Discrimination is prohibited by Title Vl of the Civil Rights Act of 1964, as amended and there are penalties for violations.
"Title VI of the Civil Rights Act of 1964 prohibits discrimination on the basis of race, color, or national origin in any program or activity receiving Federal financial assistance. Programs and activities that receive Federal financial assistance from the United States Department of Education are covered by Title VI." A significant number of beneficiary's will be Black Americans.
Painful debate this morning on the
Ernesto D. Borges
Borges & Mark Wallace show on WVON. Dropped off copies of the South Shore Current to Mark Wallace yesterday at the Old School picnic in Jackson Park, where a least 20 thousand African Americans turned out, on one of the two proposed geographic location of the Obama Presidential Library Center!
Is the $1.5 million dollar investment in the Chatham Alliance community development initiative, represents established African American leadership acceptance of the Negro share of patronage politics from the democratic machine that is controlled by Mayor Rahm Emanuel, Michael Madigan and John Cullerton, enough to begin to break the cycle of poverty in Chicago's African American communities? I don't think so….
Are most African American men in Chicago gang affiliated? I don't think so….So while murder and mayhem rules in inner city black neighborhoods, the south lakefront region of Chicago is being redeveloped as a major outdoor recreational area anchored by McCormick Place, the new DePaul Stadium and new hotel on 22nd Street in Bronzeville, three new bridges to the lakefront at 35th Street, 41st Street and 43rd Street. A new tax payer funded, private boat harbor named after Margaret Burroughs at 31st Street.
Hyde Park is now overbuilt, anchored by the University of Chicago's ownership of Harper Court, where the Obama Presidential Library Foundation has ensconced itself in a new high rise building owned by the University of Chicago, while planning to control both Washington Park and Jackson Park in their insidious urban campus expansion strategy. University of Chicago with the cooperation of elected officials who are alumni of the University of Chicago, now controls redevelopment of 61st from Cottage Grove to Michigan Avenue and 55th Street from King Drive to the Dan Ryan expressway.
This sustained University of Chicago's spatial deconcentrating plan, launched in the 1940's by Prof. Anthony Downs has taken control of traditional African American south lakefront communities of Bonneville, Grand Boulevard, Washington Park and Woodlawn, with an African American President in the White House….Black people in Chicago have been bamboozled and systematically disenfranchised by some of our own so-called black elected officials!
Dr. Edgar Daniel "E D" Nixon
Dr. Edgar Daniel "E D" Nixon pictured here with his very close friend, confidant and advisor Reverend Dr. Adam Clayton Powell jr. speaking to a large audience of supporters at Madison Square Garden in New York City. This is an excerpt of his remarks there. "I'm from Montgomery, Alabama, a city that's known as the Cradle of the Confederacy, that had stood still for more than ninety-three years until Rosa L. Parks was arrested and thrown in jail like a common criminal…. Fifty thousand people rose up and caught hold to the Cradle of the Confederacy and began to rock it till the Jim Crow rockers began to reel and the segregated slats began to fall out." The
United States Supreme Court
ruled
in the related case,
Browder v. Gayle
(1956), that the local and state laws were unconstitutional, and ordered the state to end bus segregation.
On November 13, 1956 the United States Supreme Court ruled in the Broader vs Gayle etal City of Montgomery bus segregation case that the requirement that Blacks, (actually and more properly American Black citizens) to ride on the back of buses was unconstituonal! Whose idea was it to boycott the bus company and "never ride the buses again until the practice and segregation laws were defeated? Who raised the money for the lawsuit filing fee. Whose house was totally bombed January 31, 1956 the day before February 1, 1956 he and Attorney Fred Gray would file the lawsuit in Federal court inspite of the bombing. ANSWER: Dr. Edgar Daniel "E. D." Nixon my grandfather
For Immediate Release To Assignment Editors; Television, Newspaper Radio New services, Magazine and Internet Media Broadcasters
Please cover this event of interest to the public. on October 5 thru October 13 2020 For More Information: Contact: Mr. Maurice Perkins (773) 715 4280
Executive Director, Inner City Youth Foundation Inc. 4500 South Michigan Avenue Chicago, Illinois Lionel Nixon, 312 918 2974
MEDIA ADVISORY
The Datrell Davis Memorial 28th Year Anniversary
A Recommitment to Saving Our Children and Renewing the Historic Chicago Citywide Gang Truce Keynote Speaker And Governor Ms. Arnett Freeman An Intergenerational Exchange With The Purpose:
To Produce A New Citywide Gang Truce for Chicago Youth to Stop the Shooting and The Killing In Our Neighborhoods. Passing the Batton, Sharing the History, Of Why, How, And Showing That It Has and Can Be Done Again. "If you can do it once you can do it twice!" Tuesday, October 13, 2020, 6:00 pm until 9:00 pm Swift Mansion 4500 S. Michigan Ave Limited Seating; Light Refreshments; Social Distancing Will Be Observed; Donations Appreciated.
For more information and to RSVP contact Mr. Maurice Perkins, Executive Director at the Inner-City Youth and Adult Foundation Inc. An Illinois 501 C3 Not for Profit Corporation founded in 1974 (773) 715 4280
Lionel Nixon Media Counsel 312 918 2974
-Photo Op
The Housing Crisis Remains to Fix It
CCNews Media National & International Correspondent
There are Regional and National residual effects up until this very day from the 2008 mortgage crisis. An issue of public policy.
"We need public pressure so that locally", intergovernmental they" can do something about the fact that Black homeownership has fallen to 42%; 29% + less than those of similarly situated United States citizens of European descent.
This is an, early, very conservative data estimate that extends and applies to homeowners who Americans of African descent in Chicago and across the United States; consequently who have loss over half of their wealth due to the loss of their homes: "due to circumstances beyond the Mortgagor's control". There were very few forbearance agreements or mortgage modifications provided as relief particularly to Black homeowners.
To the best of my knowledge and belief, very few of the Mortgagee perpetrators were criminally punished. There were Mortgagees and Banks who were found guilty of poor single-family loan servicing practices and some even fraudulent loan servicing practices of whom made civil agreements with the government and paid civil fines to the United States Treasury without any restitution to the victim homeowners.
This problem was not totally the fault of former President Barack Obama; the policy decisions as to how and under what circumstances government housing policy oversight mechanisms to stop the recession were developed, legislated, regulated, issued, and implemented across many different areas of government and the private sector by Congress.
If Obama had done nothing the entire economy would have crashed. It was a tough choice. But the United States remains real. Help is needed now. Laying aside excuses, my concern now is to get attention for my people in Chicago and other places across the state of Illinois, Missouri, and the nation, who are suffering and losing their homes. They are expecting me to call attention to this matter because of my knowledge and training along with my experience in housing. Personally, I like President Obama, we just have some political differences.
This is not about partisan politics or name-calling but drawing attention to the fact the United States government has some obligation to help and fix this problem. With one stroke of the pin, it could be fixed this year l 2020. Therefore the Trump Administration is responsible for fixing this problem highly impacting Black American homeowners. Joe Biden is responsible for repairing and proposing a plan on his platform for fixing the problem. To whom much is given much is required.
The problems must be fixed!
The Physics of Love Eternal
You Beloved, made your transition from this physical world.
Love, a quantum vibration frequency of electromagnetic particles, feelings,
travels through and beyond the universe carrying from within my heart; my memory, soul; my very being.
"Messages" between just us.
No matter who, when, why where, how, or what in this world happens my love reaches its' destination every day.
We are entangled forever,
"The quantum effect of entanglement, in which two or more particles can become "entangled" so that even after they are separated in space when an action is performed on one particle, the other particle responds immediately."
You told me while you were here that "We have a life connection." You helped me in so many ways that are unforgettable.
I can't see you anymore but I can feel you. I miss you and yet I receive your messages too daily.
The "Quarks" and "Hadrons" of Love, Communicating, Encouragement, and Universal Divine and Intelligent Wisdom from You, beloved that keeps me going and more focused on my purpose every day.
In the Quantum realm of the "Degrees of Freedom" we share for all eternity in the "Dark Matter", beyond the Stars, where the Universal God is busy with the Blessing Business, Our Love and Connection Shines Forever!
Remembering The Late Reverend Dr. Charles Koen
Excerpt from the Historic Images Outlet
In "1980 PRESS PHOTO CHARLES KOEN PRESIDENT OF NATIONAL NEIGHBORHOOD PLATFORM."
This hurt. A little about this late great brother and friend. There is so much more! REV. DR. CHARES KOEN was A life-long resident of Illinois, born August 7, 1945, in Cairo. Transition July 20, 2018. He and his wife, Clydia have been married 50 years and are the parents to 4 adult children and 10 grandchildren. Rev. Koen has spent most of his life as an activist for civil and human rights having been baptized into the movement at the young age of 16.
During the summer of 1962, he courageously organized and led other youth with the help of the Student Non-Violent Coordinating Committee (SNCC) to stand against racial segregation and injustices that existed in Cairo. This action was the beginning of a life of commitment to bring hope and a better quality of life to those who were suffering from poverty and discrimination brought on by long-standing practices of racial and class oppression.
For the next 52 years, Rev. Koen lived his life organizing a broad movement with a spiritual philosophy focused on developing programs that would serve the whole person –programs that had a mission as stated in the Gospel of John 25th Chapter, verses 35-36. He would use his leadership and organizing skills to work with others through a number of organizations to accomplish the mission as established by that in the 25th Chapter of Matthew. These organizations included:
The Cairo Nonviolent Freedom Committee-9-10-62 to 9-12-68-Youth Leader
National United Front-03-10-1969-President; Southern Christian Leadership Conference's Operation Bread Basket-03-04-70; Southern Christian Leadership Conference-Vice President (Midwest Region)-04-05-71; National Association of Neighborhoods-04-12-80-President
Rural America-Executive Board Member-09-10-1982, One Church-One Child-05-1980
Education:
McKendree University-09-1963 to 06-1966
Northeastern Illinois University-09-1980 to 06-1982(BS Degree)
Southern Illinois University-09-1982 to 06-1984(MS Degree)
Union Graduate School of Experimental Education-09-1984 to 09-1988(Ph.D. of Philosophy)
Politics:
Appointed by President Jimmy Carter to Rural America Board. Ran as a Democratic Candidate for Governor of the State of Illinois. Rest in Peace and Power!
A Community Benefits Agreement Now
By: Lionel B. Nixon; National and International Correspondent CCNewsMedia
A Community Benefits Agreement sometimes described as a: "Memorandum Of Understanding" does not have to be done with one particular group or organization. It does not have to be done with several groups or organizations. A Community Benefits Agreement can be a signed document to the communities and neighborhoods at-large. A Community Benefits Agreement can be used as a written measuring tool to evaluate and assess progress on outcomes and on proposed goals and objectives.
Laying aside all excuses, placing one's signature on a document establishing specific items, measured goals, objectives and outcomes that can be evaluated by the community for everyone to see is the key to establishing an instrument that provides ultimate clarity and transparency protecting not only the people in the communities and the neighborhoods of the city of Chicago but also the signer relative to what specifically is to be accomplished environmentally, economically, culturally and in the interests of fairness, parity safeguards against gentrification and protection of the neighborhoods from undo harm.
With a community benefits agreement, you have the capacity to make adjustments based upon written criteria if the benchmarks to the established goals, objectives, and outcomes that have have been promised fall off track.
If there is no hidden agenda, no hidden information, or pre-promised protected business interests then there should not be a problem signing a document that is written precisely on what the benefits, environmental impact, economic impact, and neighborhood stabilization outcomes are intended for the homeowners and renters.
So the political question and battle over the next two years will be why wouldn't Barack Obama, a former community organizer himself not want to sign such a document with the whole world watching? Keep "Moving Forward"!
Don't just "Move On". A hint to the wise is sufficient. Lionel Nixon, President
Illinois Consortium On Public Affordable Disabled And Senior Housing
President, Emeritus Coalition To Save South Shore Country Club Park Inc.